Building A Creative Community at Earth Star Healing Center.
Building A Creative Community at Earth Star Healing Center.
We are in the planning phase of a new Creative Community at Earth Star Healing Center.
This Creative Community has been evolving for about a year. I got a message from Spirit to start planning and putting the word out about it.
We have moved into the Age of Aquarius and new frequencies.
Earth Star Healing Center is now evolving to meet the needs of our community and raising its frequency to match our New Earth Energy.
I recently found a book I started reading in1994 when my Awakening began. The Star-Borne by Solara mentions these new communities. ….islands of light p 277 From "Star-Borne"
" We hereby urge you to gather together to form islands of light. If you feel called to become part of an island of light but have not yet found your place and your people, don't worry. Everything will be revealed within the proper timing…in the meantime, you can occupy yourself with completing all unfinished business and unresolved relationships in your present location. Hence you will be free to move quickly when you are led to your place…others will find that their area of service requires living outside of their chosen community, while maintaining close links with it. Each person drawn to an island of light shall bring an immensely needed gift. It will be the gift of your being as well as useful talents and skills to share with others…..once all our islands of light are anchored into position, we will move into a New Octave of collective oneness, weaving ourselves into the New Matrix. Our magnificent islands of light shall serve not only as the seeds of our future, but as launching points of ascension into ever deeper realms of oneness. "
My understanding is that " Islands of light" are Healing Centers- Creative Communities, Places for Ceremony. Places the light is held and grounded on the planet. We are located in Larimer County, just outside Fort Collins City Limits. We have the opportunity to reach people in the City while being in a rural setting.
What does the Creative Community Look like at Earth Star?
We need to have a space to be creative, express ourselves in movement and dance, play music, be artistic, create sustainable products, and learn.
We will be selling the Inventory at the store to make room for more gathering space. We will expand the Art Studio area and have tables in the front for Art Classes, Inspirational Art Journals and our regular classes and workshops.
We will have a Yurt in the front yard for Yoga Classes and Classes for all ages.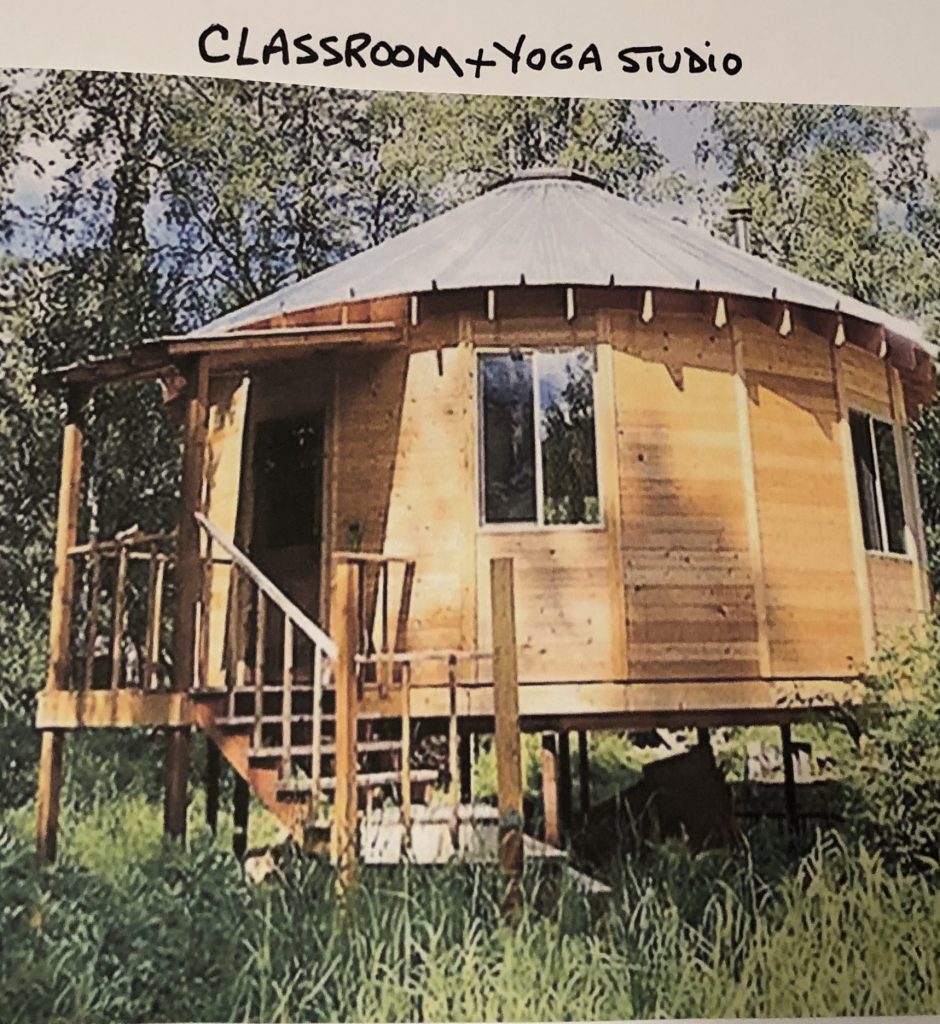 I like the idea of having a round room or circular space for movement and a free flow of energy.
We will have a round Gazebo in the back yard for evening meditation in the summer free from biting insects.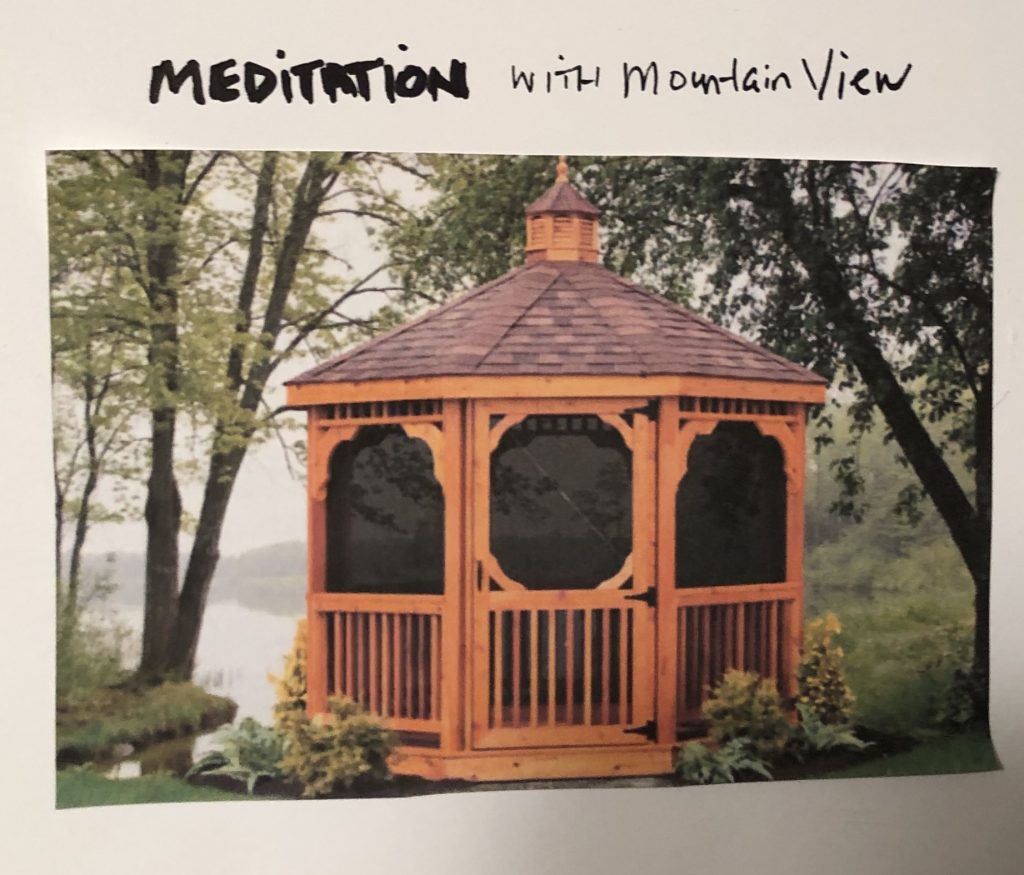 I love to watch the sun set over the foothills and listen to the birds at the pond. We will find creative ways to make it a four season meditation space.
We will have a pottery studio in the garage.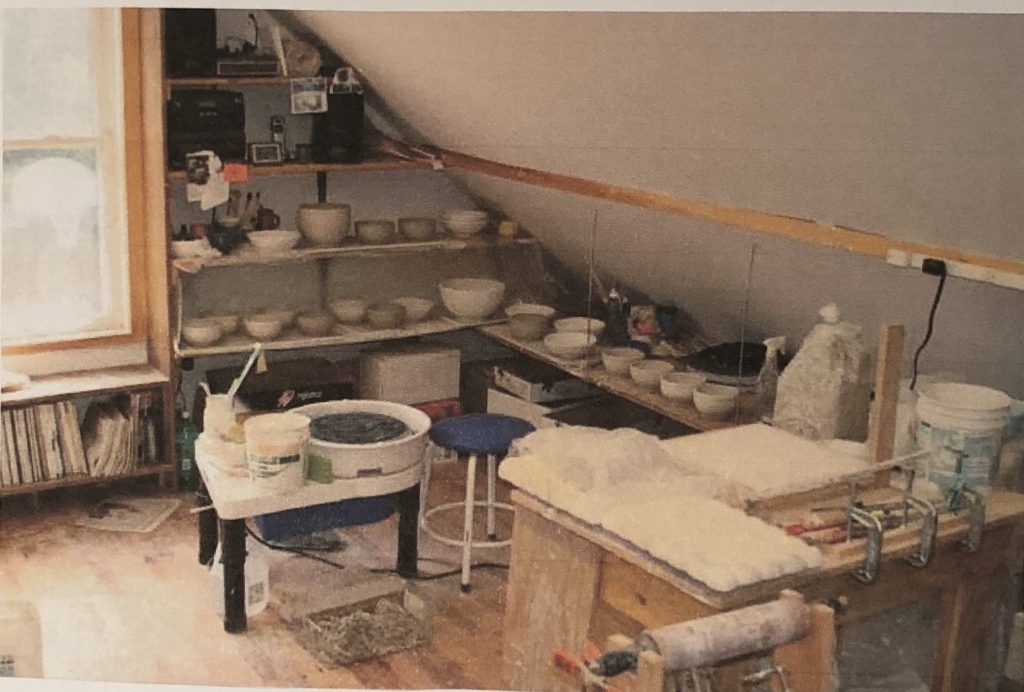 I want to add a window and replace the garage doors and set up space for hand building and wheel throwing. I have friends in the community who want to donate tools and who already teach pottery to children.
We will open up the Sun Porch when the weather is warmer for classes and small musical gatherings. All of the events at Earth Star will be small, intimate gatherings so we still live in harmony with our neighbors and the animals that live here.
We will have Herb gardens and a community garden where people can come and learn about medicinal plants and help with the gardens. We want to build our knowledge of herbal plants and the healing properties of plants.
We will expand our Healing Techniques and bring in teachers and facilitators to share new healing modalities when they become available.
Earth Star is the bridge between the Earth and The Stars.
We will be offering Sweat Lodge and Ceremony for the Lunar Cycles. We follow the Ceremonies in the Maka Wicahpi Wicohan, Iktomi Wicahpi Wicohan and Chan Wakan Wicohan. 11:11, 12:12 and 13:13.
We will also have Mediations, Pot Lucks, and Gatherings throughout the year. We will teach about the Star Ways and the teachings of the 11:11, 12:12 and 13:13.
We will add more information as it becomes available and as we have a timeline for when things are going to be completed. I am aware that it takes a community to build a creative community and I hope you all can help us with tools and materials that we will need.
What is needed now:
Sweat Lodge: We need firewood, chainsaw and axes, rocks ,volcanic rocks too 🙂 tarps, blankets and a few people with chainsaws to help cut the trees and branches that blew down.
Futons for the Sun Porch. I have two double size futon frames on the Sun Porch. We need two double size futons so we can make them into couches and beds for those who stay over.
Art Studio: We need donations of art supplies, magazines, canvas, tables and chairs.
Setting up the Pottery Studio: we need help setting up the pottery studio. Donations of clay, tools, shelving, a window, garage doors, kiln, wheels and materials to build wheels.
Transportation to the dump. We need one or two helpers to take old furniture and carpet to the dump.
Roof Repair. I need help with the roof on the porch at Earth Star. There are a few leaks on the south side that need to be patched and we need new plywood and new shingles on the porch roof. We also need to have the wood stove hood removed and the roof repaired there.
A Yurt: we need a yurt for yoga and classes
A Gazebo: We need a gazebo for meditation.
Landscape help in the Spring. We need to move the yarrow and redo the raised beds in the garden areas. We will also need help getting the gardens ready to plant.
If you have things to donate, want to send a donation or have skills to share please text me, call me or email me. 970-599-2540 or lelie@earthstarstore.com
[wpedon id=1065]